EXPLANATION
After face wash, fill up emptied pores with sufficient moisture and essential nutrients
to vitalize diminished skin function.
WHAT IT'S GOOD FOR
1. Provide lacking moisture and essential nutrients
2. Vitalize diminished skin functions
3. Treat and soothe skin irritation
HOW TO USE

Basic Toner → Step1. Structure Serum → Step2. Vitality Serum→ Step3. Reinforce Serum → Step4. Management Cream

Fill Up Moisture on to SKIN , Right after cleansing, apply first serum on your face to fill the moisture,
prepare second step. Quickly absorb into skin penetrated in deep skin layer.
Hydrating in the empty skin – After cleansing, it instantly moisturizes the skin that lost its natural moisture,
making it soft and moisturized.
Maximize the effectiveness of the next stage cure ampoule Skin that is fully supplied with basic nutrients will
receive the vitamin ingredients contained in the second stage cure ampoule better.
Helps to improve rough skin texture, ampoules contains rich minerals and multivitamins smooth
out skin texture.


ALL Ingredient

Water, 1,2-Hexanediol, Glycerin, Betula Alba Juice, Panthenol, Sodium Hyaluronate, Hericium Erinaceum
(Mushroom) Extract, Tremella Fuciformis (Mushroom) Extract
"STEP 2 : Vitality"  Rx: Vitalizing Circulation/Soothing  Main Ingredients: Vitamin C Oil
EXPLANATION
For clear skin, help capillary circulation for better oxygen and nutrients supply to make
vibrant skin and maintain optimal skin condition.


WHAT IT'S GOOD FOR
1. Vitalize capillary circulation and stabilize skin rhythm
2. Improve dull and uneven skin color
3. Exfoliate and improve rough skin texture
※ After applying sufficient amount of Circulation oil, massage acupuncture points.
(User will experience heat for appx. 3 minutes.)
HOW TO USE

Basic Toner → Step1. Structure Serum → Step2. Vitality Serum→ Step3. Reinforce Serum → Step4. Management Cream

Help your skin feel gentle and give back to the lost skin cycling process.
Regaining the skin rhythm and see the difference in the radiance from the inside. The oil type ampoule, which contains plenty of vitamins and nutrients, activates

the depleted skin function, as well as boosts the natural radiance and glowing of the skin. Then it prepares next steps of number three make your skin nourishing.

Massage around the neck to help activate circulation to the face. Intensively massages around the neck as detoxifying, where the flowing lymph and muscles are concentrated.

Provide proper heat to skin to boost skin shine. After the appropriate amount of Circulation Ampoule is in your hand, rub your palm to feel the proper heat and wrap your face in the palm of your hand to transfer heat directly to your skin.
Regenerate circulation with a face massage. When face massage with Circulation ampoule, skin temperature is going up as blood flow is boosted and skin is softened, and product penetration is enhanced.
ALL Ingredient

Dipropylene Glycol, Glycerin, Ascorbic acid, Polysorbate 60, Niacinamide, Calcium pantothenate, Sodium
Ascorbyl Phosphate, Tocopheryl Acetate, Pyridoxine HCL, Maltodextrin, Sodium Starch Octenylsuccinate,
Silica, Cetyl Ethylhexanoate, Acer Mono Sap, Camellia Sinensis Leaf Extract, Brassica Oleracea Italica
(Broccoli) Extract.
"STEP 3 : Reinforce"  Rx: Vitalizing Skin Turnover  Main Ingredients: MGF (Multi Stem Cell Growth Factors)
EXPLANATION
28-day skin turnover vitalization always creates clear and fair skin like that of child and
reinforce sensitive skin to be firm and strong.
WHAT IT'S GOOD FOR
1. 28-day skin turnover vitalization
2. Improve and balance rough and uneven skin color and texture
3. Create clear and fair skin
4. Keep skin moisture over long period by creating moisture barrier
HOW TO USE

Basic Toner → Step1. Structure Serum → Step2. Vitality Serum→ Step3. Reinforce Serum → Step4. Management Cream

Give more moisture and nourishment to the skin for glowing & shining from the inside out.
It provides immediate moisture into the skin for renewal cells and prevent skin sagging.
Highly enriched ampoule with various nutrients replenishes skin moisture and nutrients,
making your skin shinier and healthier.
Enhancing skin's natural moisture and shine. It adds natural moisture and shine to your skin.
Skin Crystals and Trace Care. High concentrated multi-peptides provide complex care for
damaged skin and improve skin overall function.
Helps to restore skin cell renewal turnover cycle skin cells. Complex of nutrients help to
normalize the turnover cycle of broken skin as well as boosting skin immunity.
ALL Ingredient

Water, Cyclopentasiloxane, Glycerin, Dipropylene Glycol, Butylene Glycol, Squalane, 1,2-Hexanediol, Cyclomethicone, Dimethiconol, Dimethicone, Betaine, Glyceryl Stearate, Sodium Hyaluronate, Cetearyl Alcohol, Hydrogenated Lecithin, Ceteareth-20, (-)-alpha-bisabolol, Panthenol, Allantoin, Niacinamide, Sodium Carbomer, Pentylene glycol, Sodium Phosphate, Lecithin, sh-oligopeptide-1, sh-polypeptide-1, sh-polypeptide-11, sh-polypeptide-10, sh-polypeptide-9, sh-oligopeptide-2, Superoxide Dismutase, Panax Ginseng Root Extract, Atractylodes Japonica Rhizome Extract, Dioscorea Japonica Root Extract, Ziziphus Jujuba Fruit Extract, Chrysanthemum Morifolium Flower Extract, Acer Mono Sap, Lonicera Japonica (Honeysuckle) Flower Extract, Pueraria Lobata Root Extract, Cimicifuga Dahurica Root Extract, Saposhnikovia Divaricata Root Extract, Paeonia Albiflora Root Extract, Cnidium Officinale Root Extract, Angelica Dahurica Root Extract, Silkworm Extract, Agastache Rugosa Extract, Zingiber Officinale (Ginger) Root Extract, Scrophularia Buergeriana Extract, Angelica Gigas Root Extract, Poria Cocos Extract, Glycyrrhiza Glabra (Licorice) Root Extract, Zanthoxylum Piperitum Fruit Extract, Forsythia Suspensa Fruit Extract, Astragalus embranaceus Root Extract, Citrus Unshiu Peel Extract, Disodium EDTA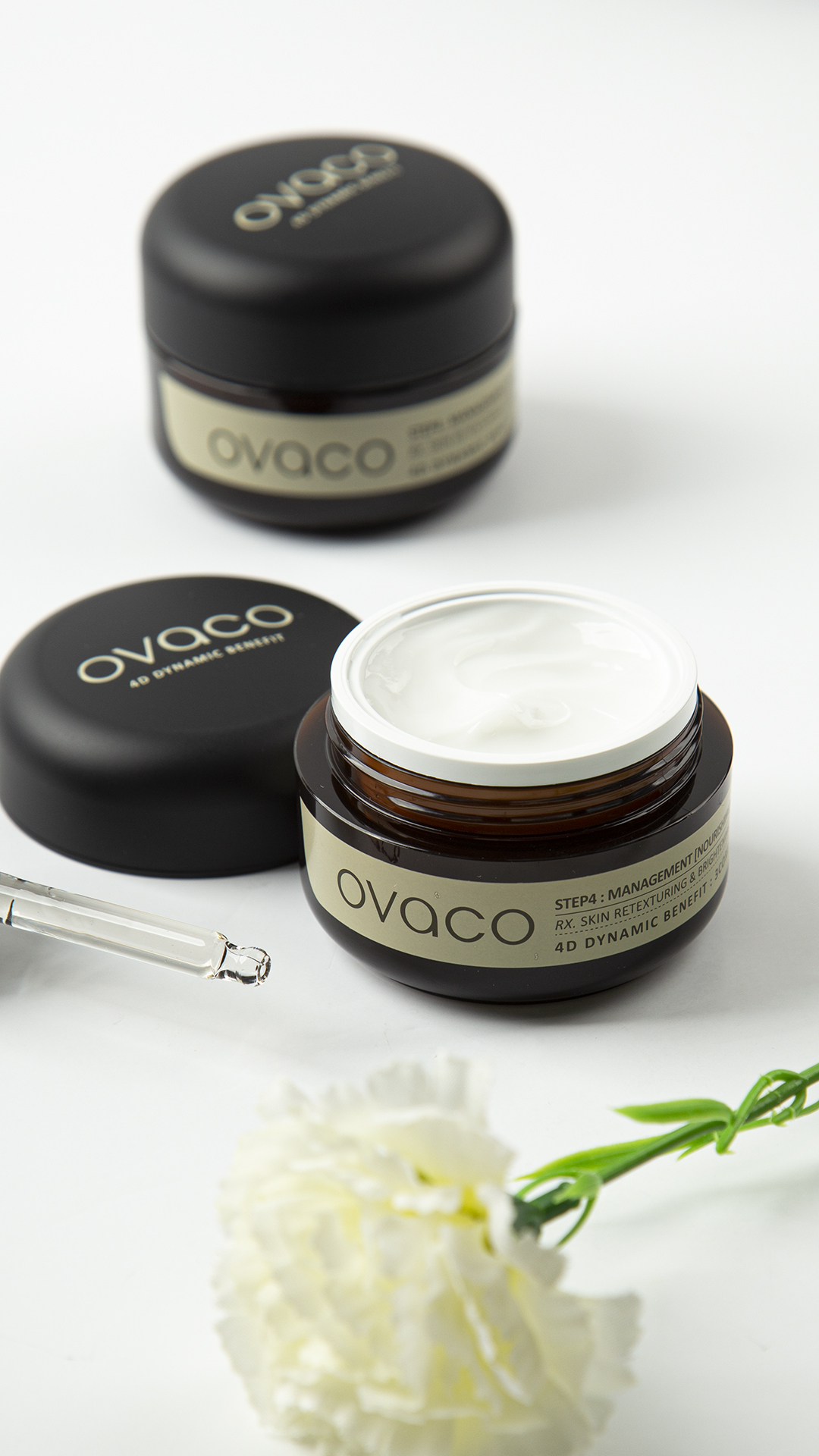 "STEP 4 : Management"  Rx: Providing rich nutrients  Main Ingredients: Vitamin | Amino Acids | Organic Mineral | Peptide | Oriental Medicine Ingredients
EXPLANATION
By providing necessary energy for skin vitalization, create healthy skin that lasts over time
and maintain smooth, glowing skin with rich nutrients.
WHAT IT'S GOOD FOR
1. Strengthen functions for vitalizing skin
2. Provide rich nutrients and moisture
3. Enhance natural resistance capability
4. Help create natural skin barrier
HOW TO USE

Basic Toner → Step1. Structure Serum → Step2. Vitality Serum→ Step3. Reinforce Serum → Step4. Management Cream

Human skin requires nutrition to flourish. Getting best nutrition, you can be essential for
maintaining healthy skin. Indeed, though it is impossible to prevent the process of aging skin,
good nutrition can help maintain an attractive complexion.
4D Dynamic Benefit last stage of care cream provides skin energy that needs times goes by and
improve skin appearance from tiredness.
Fast absorption – quick absorption formula made by our R&D penetrates the skin to deliver visible
results while you are doing activities especially nighttime.
Decant creamy texture, non-sticky, non – greasy moisturizer, all day moisturizer, this formula helps
strengthen skin's ability to retain nourishing moisture for next day hydration helping to restore
healthy glow & softness on your skin.
ALL Ingredient

Water, Glycerin, Dipropylene Glycol, Squalane, Butylene Glycol, Butyrospermum Parkii (Shea Butter), Glycereth-26, 1,2-Hexanediol, Cetearyl Alcohol, Stearyl Alcohol, Glyceryl Stearate, Beeswax, Caprylic/Capric Triglyceride, biosaccharide gum-1, PEG-100 Stearate, Sodium Hyaluronate, Ceteareth-20, Dimethicone/Vinyl Dimethicone Crosspolymer, Dimethicone, Panthenol, Tocopheryl Acetate, Allantoin, Chamaecyparis Obtusa Oil, Carbomer, Triethanolamine, Betaine, Panax Ginseng Root Extract, Atractylodes Japonica Rhizome Extract, Dioscorea Japonica Root Extract, Ziziphus Jujuba Fruit Extract, Chrysanthemum Morifolium Flower Extract, Bacillus/Corchorus Olitorius Leaf Ferment Filtrate, Chlorella Minutissima Extract, Yeast Extract, Copper Tripeptide-1, Tripeptide-29, Acetyl Hexapeptide-8, Palmitoyl Pentapeptide-4, Nicotinoyl Tripeptide-1, Nicotinoyl Dipeptide-22, Nicotinoyl Dipeptide-23, Nonapeptide-1, PPG-26-Buteth-26, PEG-40 Hydrogenated Caster oil, Caprylyl Glycol, Ceramide NP, Sodium Polyacrylate, Lonicera Japonica (Honeysuckle) Flower Extract, Pueraria Lobata Root Extract, Cimicifuga Dahurica Root Extract, Saposhnikovia Divaricata Root Extract, Paeonia Albiflora Root Extract, Cnidium Officinale Root Extract, Angelica Dahurica Root Extract, Silkworm Extract, Agastache Rugosa Extract, Zingiber Officinale (Ginger) Root Extract, Scrophularia Buergeriana Extract, Angelica Gigas Root Extract, Poria Cocos Extract, Glycyrrhiza Glabra (Licorice) Root Extract, Zanthoxylum Piperitum Fruit Extract, Forsythia Suspensa Fruit Extract, Astragalus Membranaceus Root Extract, Citrus Unshiu Peel Extract, Disodium EDTA

Capacity; 25ml x 3pcs serum & 30ml cream

Origin: Korean